OLPC Vancouver
From Wayan for Metroblogging DC: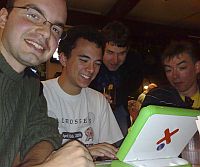 Get your XO-1 geek on with VBCXO!
Have you heard about the One Laptop Per Child program? An effort to distribute "$100 laptops" to the world's children, empowring learning with technology ona global scale? Would you like to see the XO laptop up close and personal?
Then join the VBCXO User Group for its February Meetup. Canadians are just now getting their hands on XO laptops after reminding OLPC that G1G1 Canadians Are Humans, With Kids Too, and the excitement to mesh is palatable.
VBCXO User Group February Meetup
A fun discussion and discovery of One Laptop Per Child technology for the whole kids to geeks XO-loving family.

Saturday, February 16
4:00 – 7:00pm
ShaShuka Art Gallery and Eatery
6555 Fraser St – map
Vancouver, BC
We'll have Wayan Vota, editor of OLPC News leading the conversation, plenty of XO's to play with, an even XO-related prizes!