School's out at Only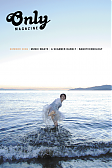 One of the many free local papers I like to pick up for quick entertainment and to get savvy on local going-ons is taking a hiatus for a few months. However it looks like their web page that contains all of the stuff that you would see on the print version and archives, also includes content that never makes it to print. This includes a blog that was updated a day ago and a link to Tony Millionaire's Maakies comic strip for those who need a steady dose of amusement from Uncle Gabby & Drinky Crow.
Also you may want to check out the page for the June 1-4 Music Waste Festival that they're sponsoring for lowdown on bands, venues, timings, etc. I know it's already day two of the festival but hey it doesn't hurt to have extra options for things to do this weekend, right?